NBCUniversal App and Site Work
Travel Portals, UI Style Guides and More
NBCUniversal's goal was to leverage SAP Portal existing technology, create a new modern look and feel that is consistent with the UI style guide, and create an app to serve as a gateway to the policy center and corporate compliance site.
4 User Types
• Primary User: Home Entertainment Employees
• Secondary User: International Users
• General User: All Employees
• Admin User: Portal Administrators
To comply with my non-disclosure agreement, I have omitted and obfuscated confidential information in this case study.  The information in this case study is my own and does not necessarily reflect the views of NBCUniversal.
Scott LaRocca — Senior VP
Sharon Paras — Senior UI/UX Designer
Tiffany Chi — Project Manager
Erik Bjarnason — UI/UX Designer
Charles Harless — Account Executive
Bhushan Malkane — Lead Engineer
My role
I lead the UX design team and my individual responsibilities include: the research, UI/UX design, and wires to composition execution for these projects. I was also responsible for presentation design to the SVP.
The app reduces the amount of paperwork and policies employees will need to memorize.
The business goal was to create a mobile application for SNAP to facilitate (SAP) workflow Approval / Rejection / Hold for invoices, purchase orders and purchase requests. A UI guide, travel portal that connected with SAP, and Office 365 connection was needed.
NBCUniversal SNAP
Functionality
• Access anywhere anytime
• Personal Inbox for workflows to be processed or reviewed including attachments
• Push Notification of pending workflows to be processed.
• Hold, Approve or Reject capability
• Receipt Store capability
Corporate Compliance App
Functionality
App serves as a gateway to "Policy Center" the Corp Compliance website
View all compliance policies "Central Knowledge base" on mobile
User provides feedback of the app
Search Capability
App Development, Service Development (NEAP Platform) Dynamic content, Content Dev. (Get all assets into the service)
Reporting a Violation: Link or integrate with Comcast Listens (comcastlistens.com)
Take courses Records data in Success Factors (SAP) via API – Learning management system (LMS)
End of Course User gives Feedback on the courses
In App Questionnaire
NBCU Internal Portal (SAP)
Functionality
Leverage SAP Portal existing technology
Create a new modern look and feel
Create a vision for the future
Position SAP Portal as a valuable company asset
4 User Types
Primary User: Home Entertainment Employees
Secondary User: International Users
General User: All Employees
Admin User: Portal Administrators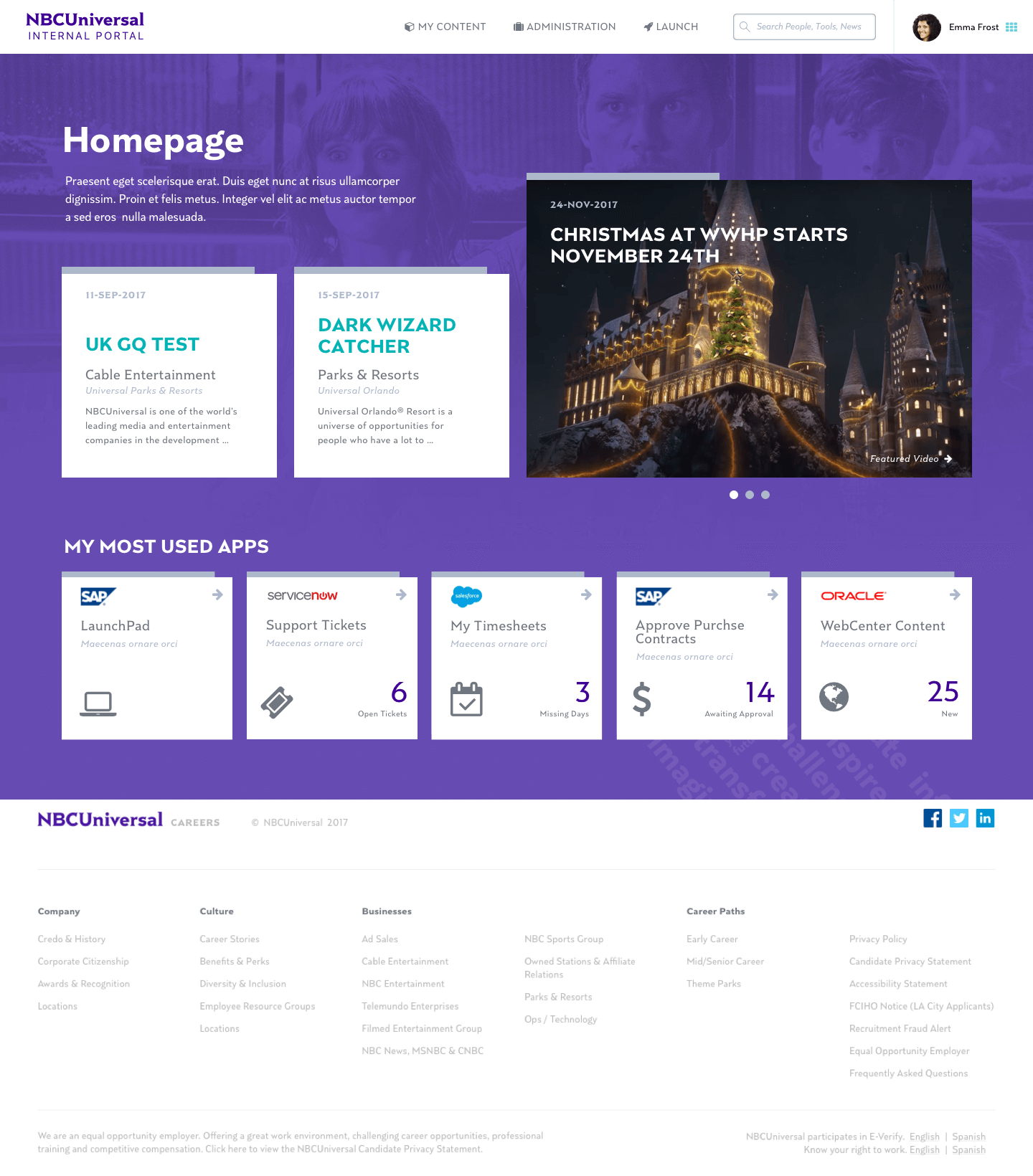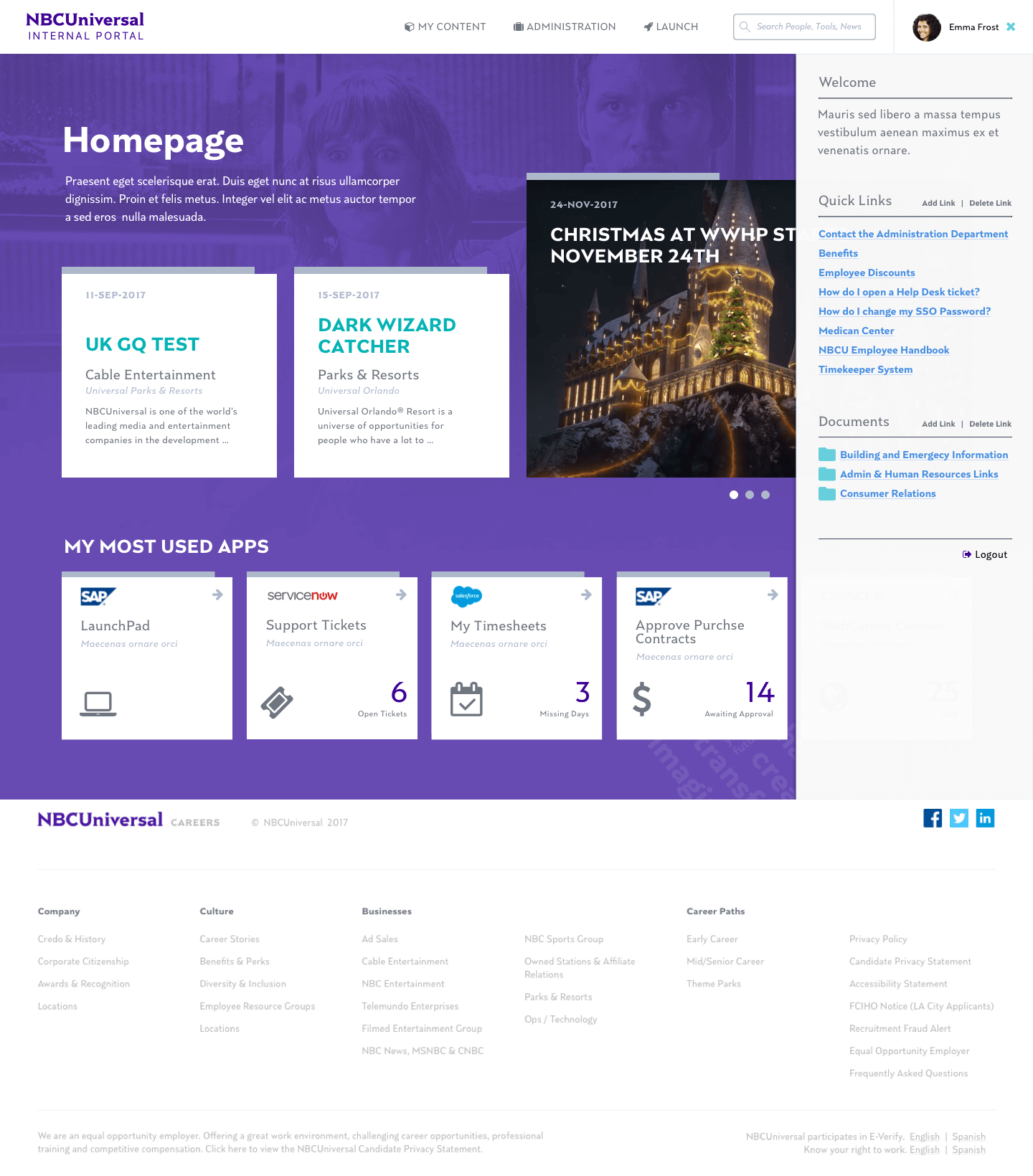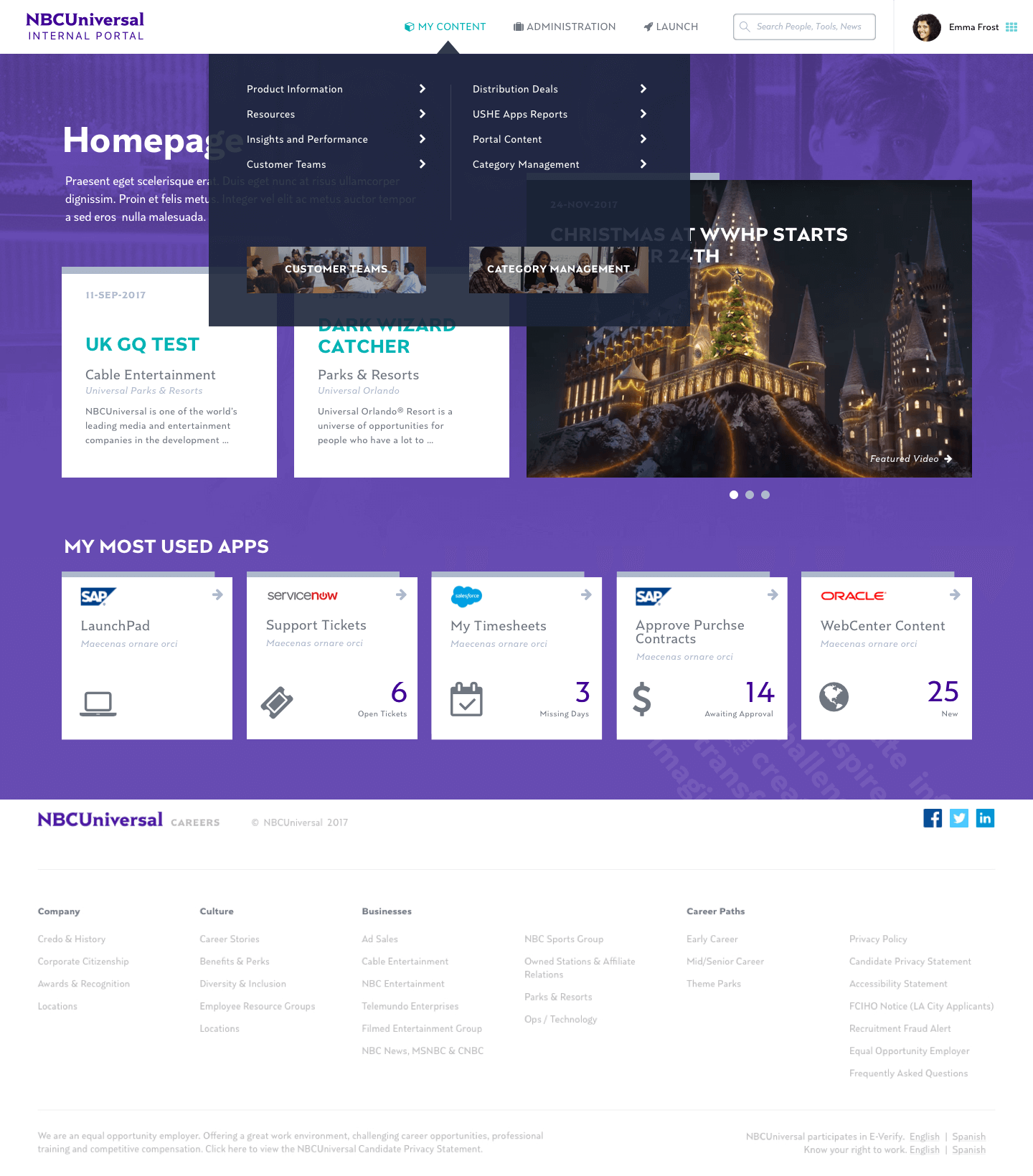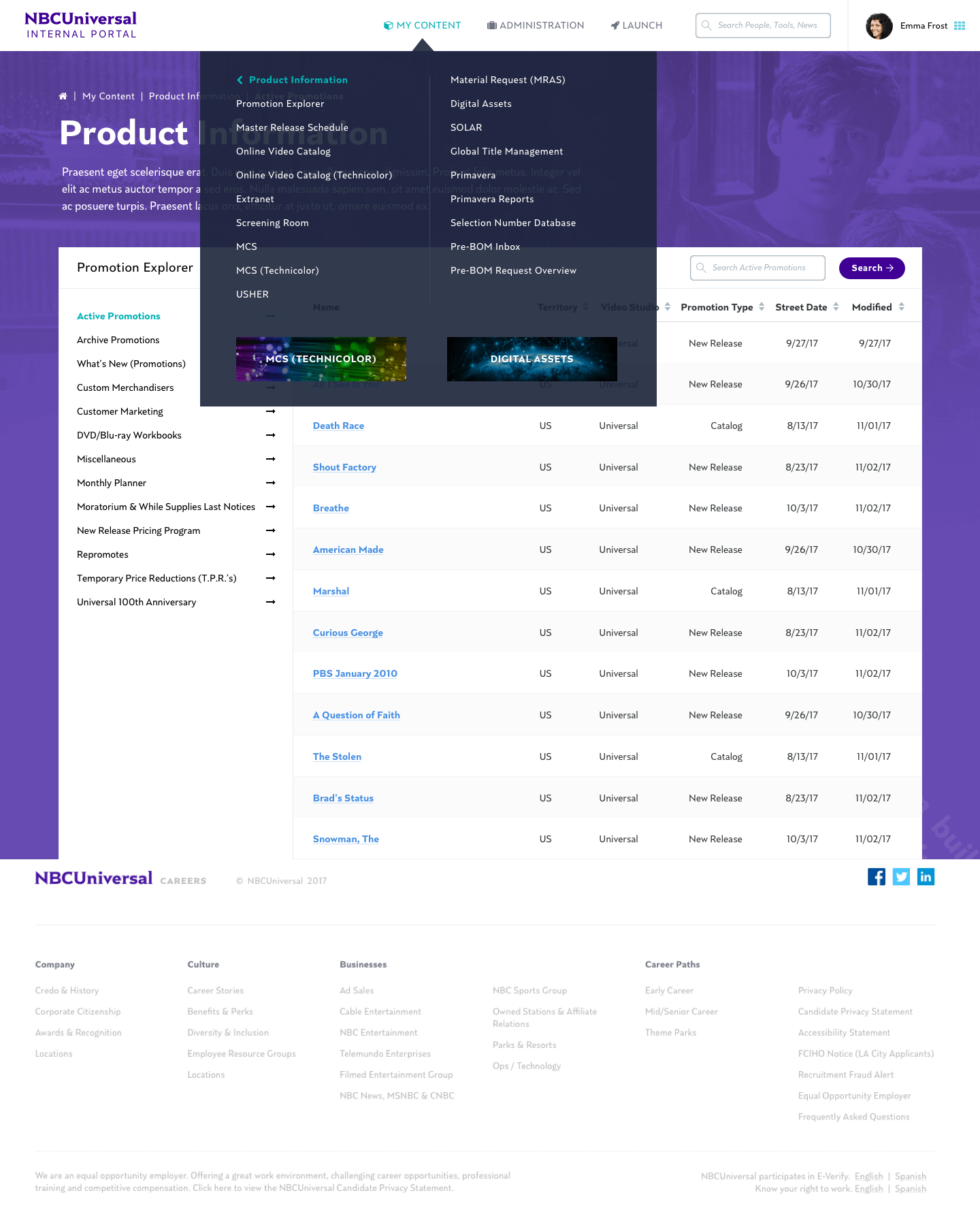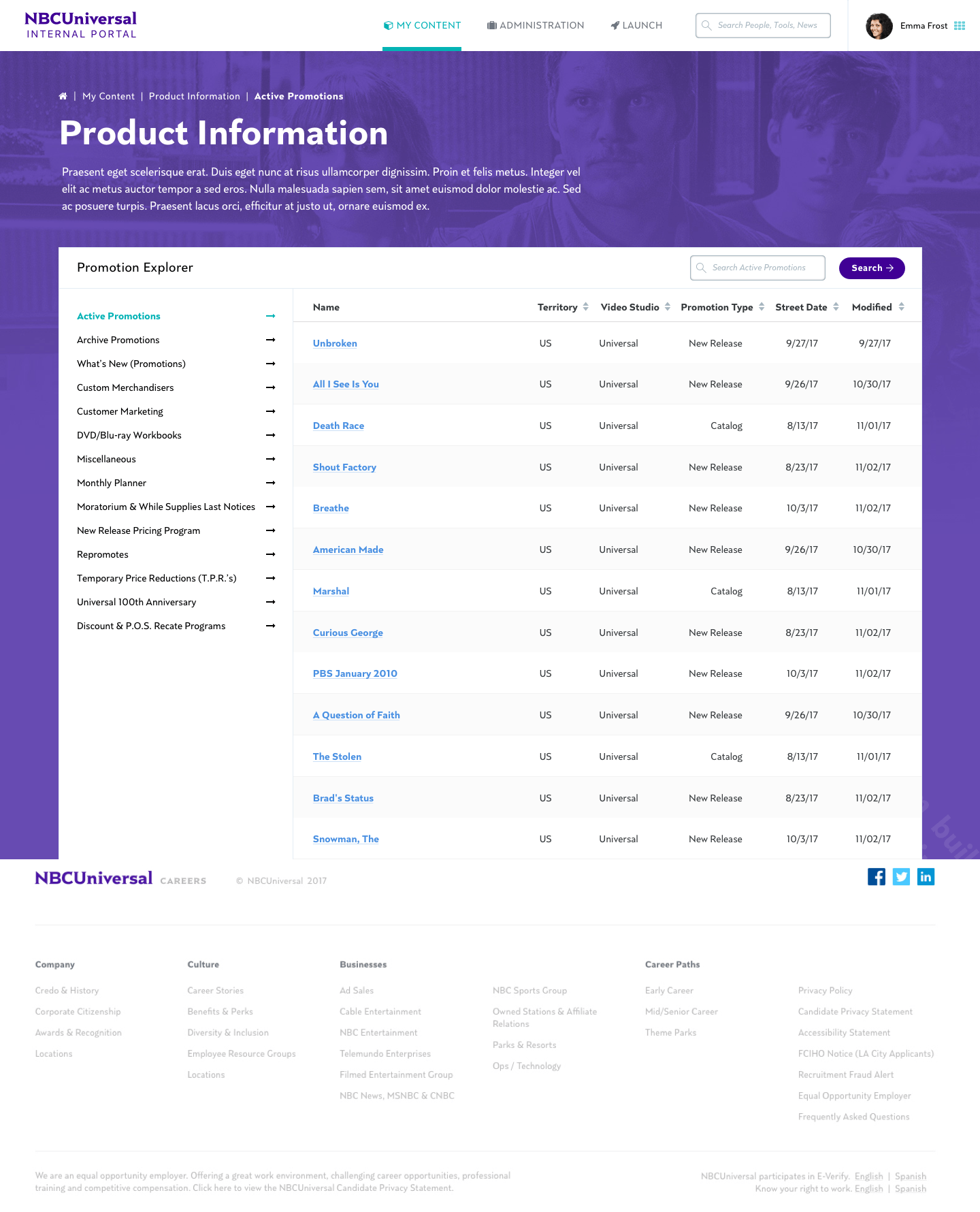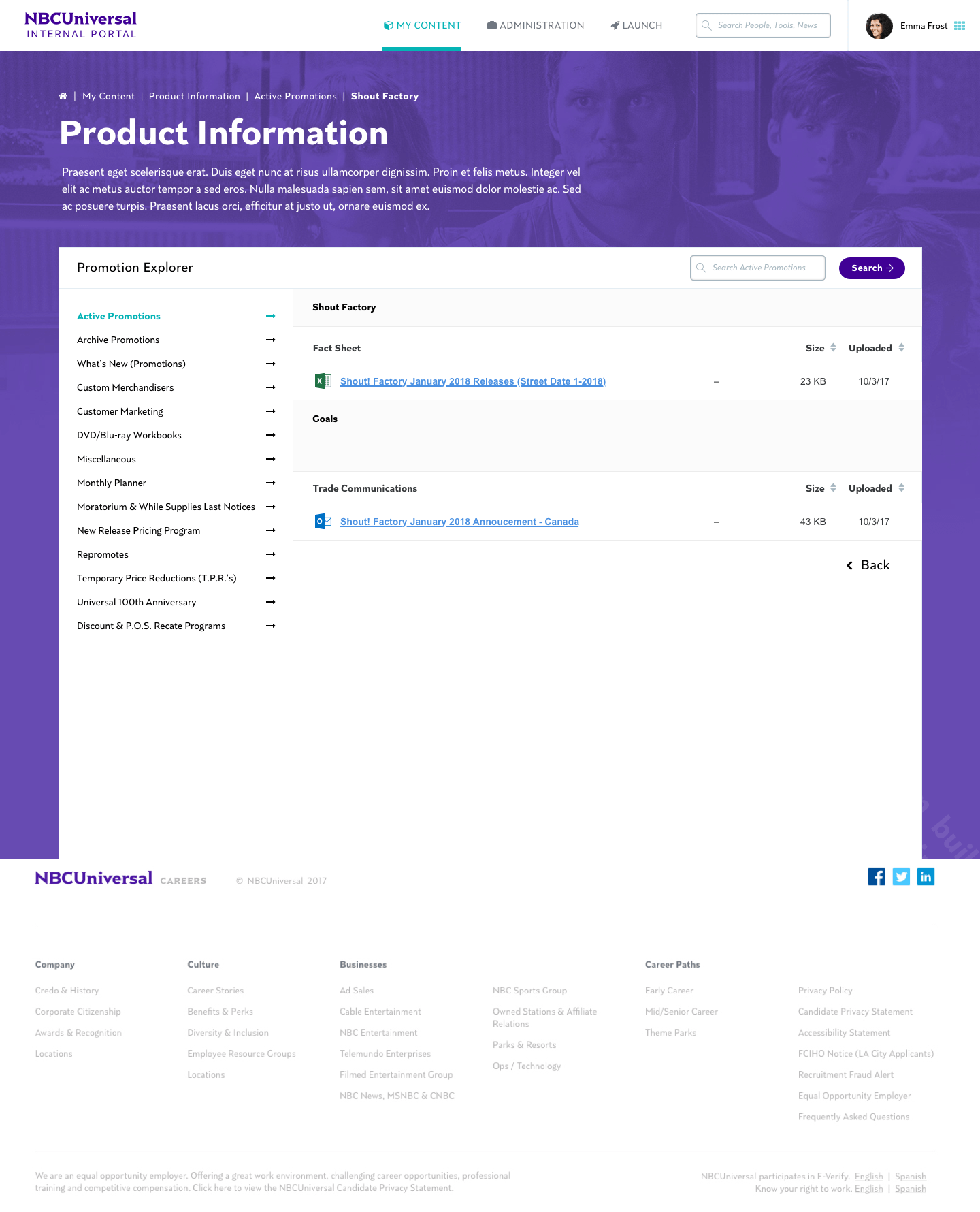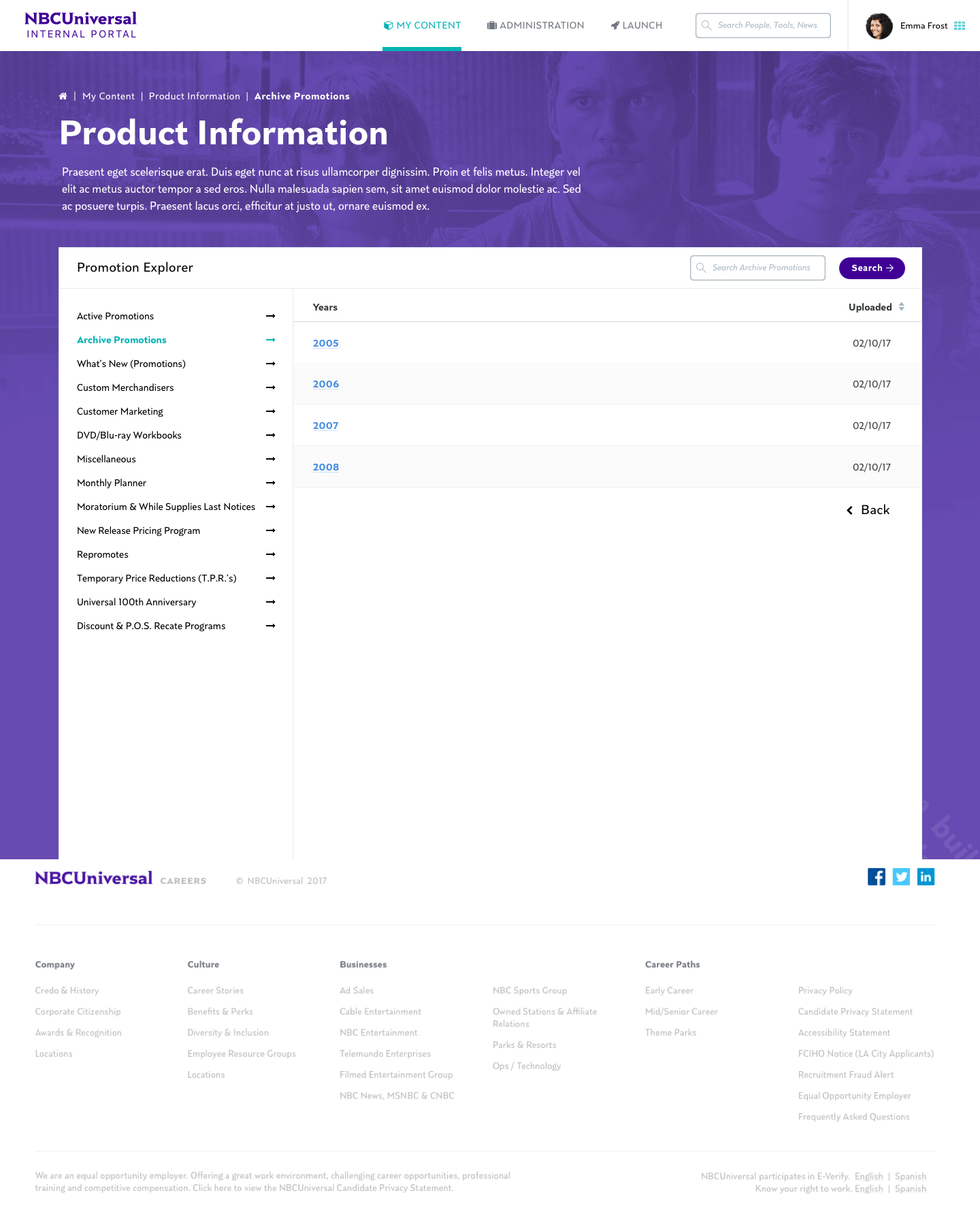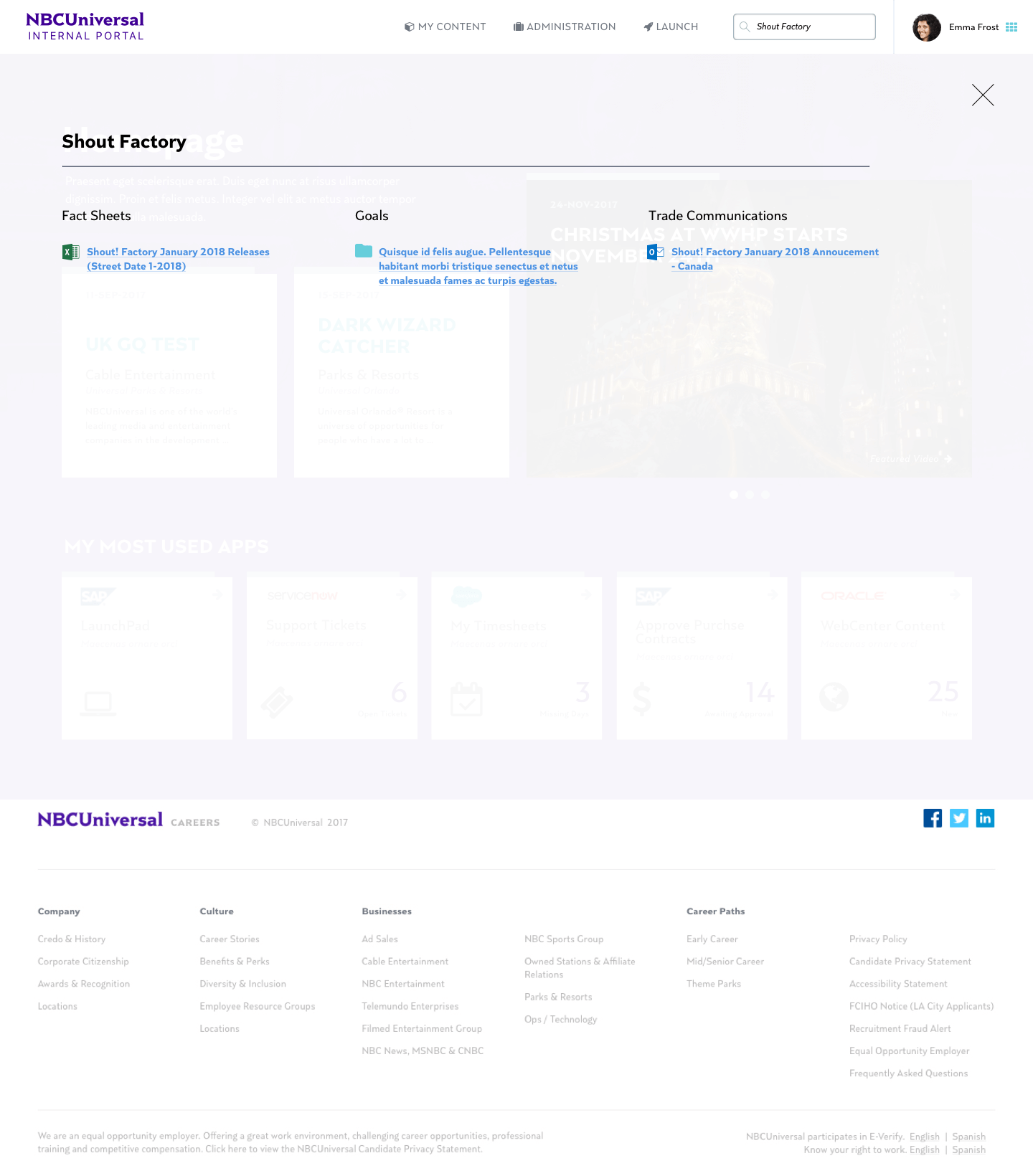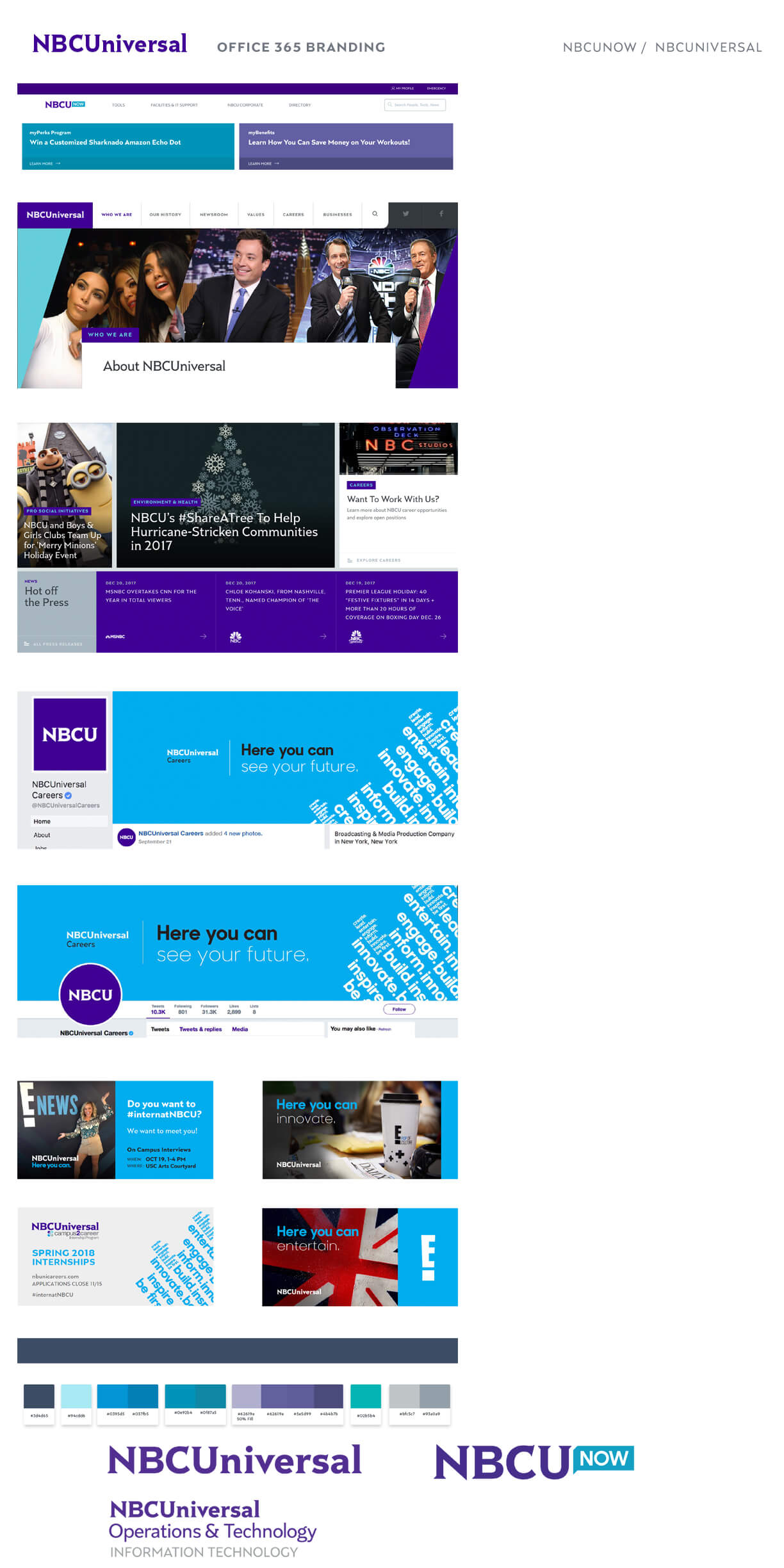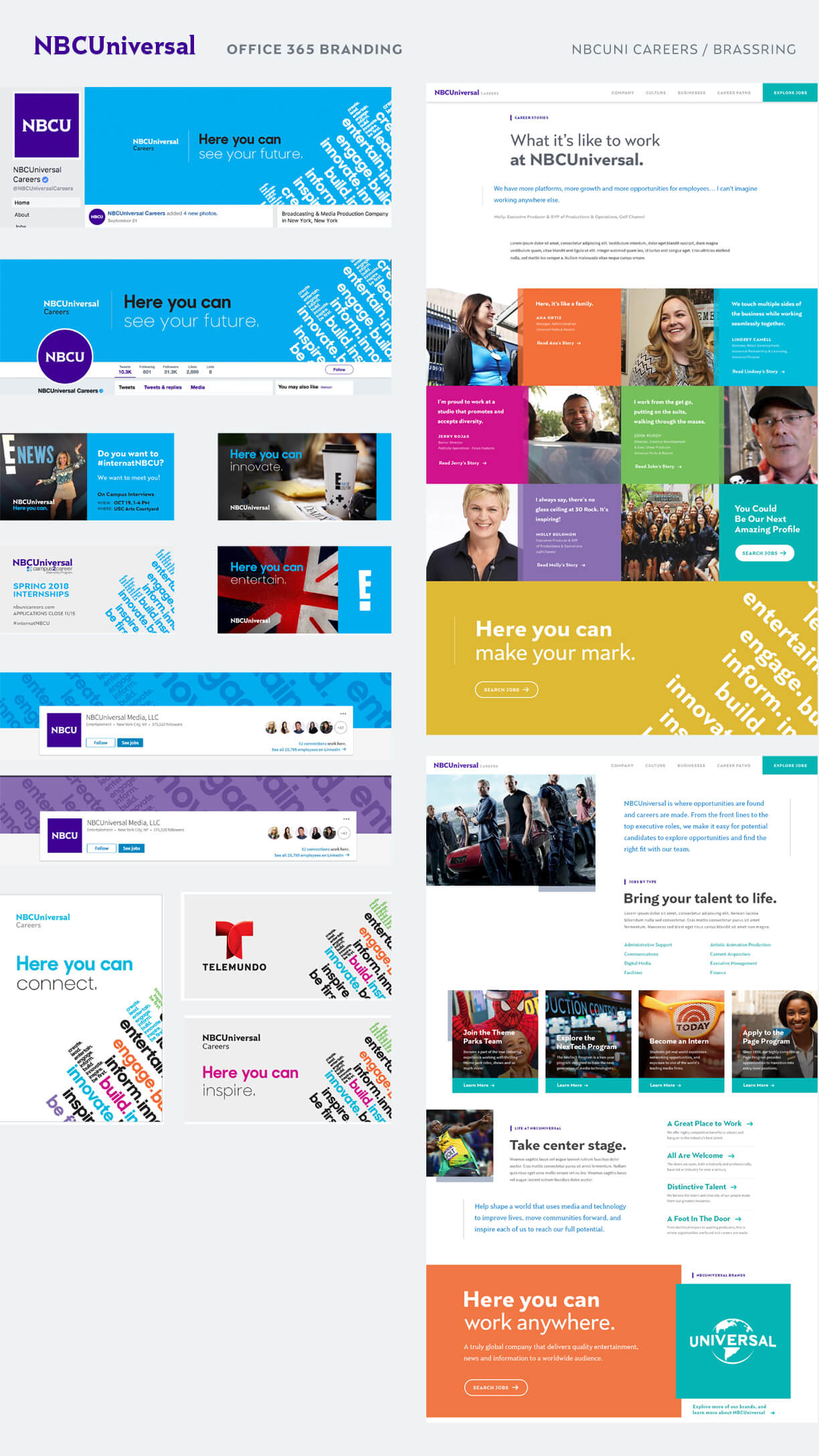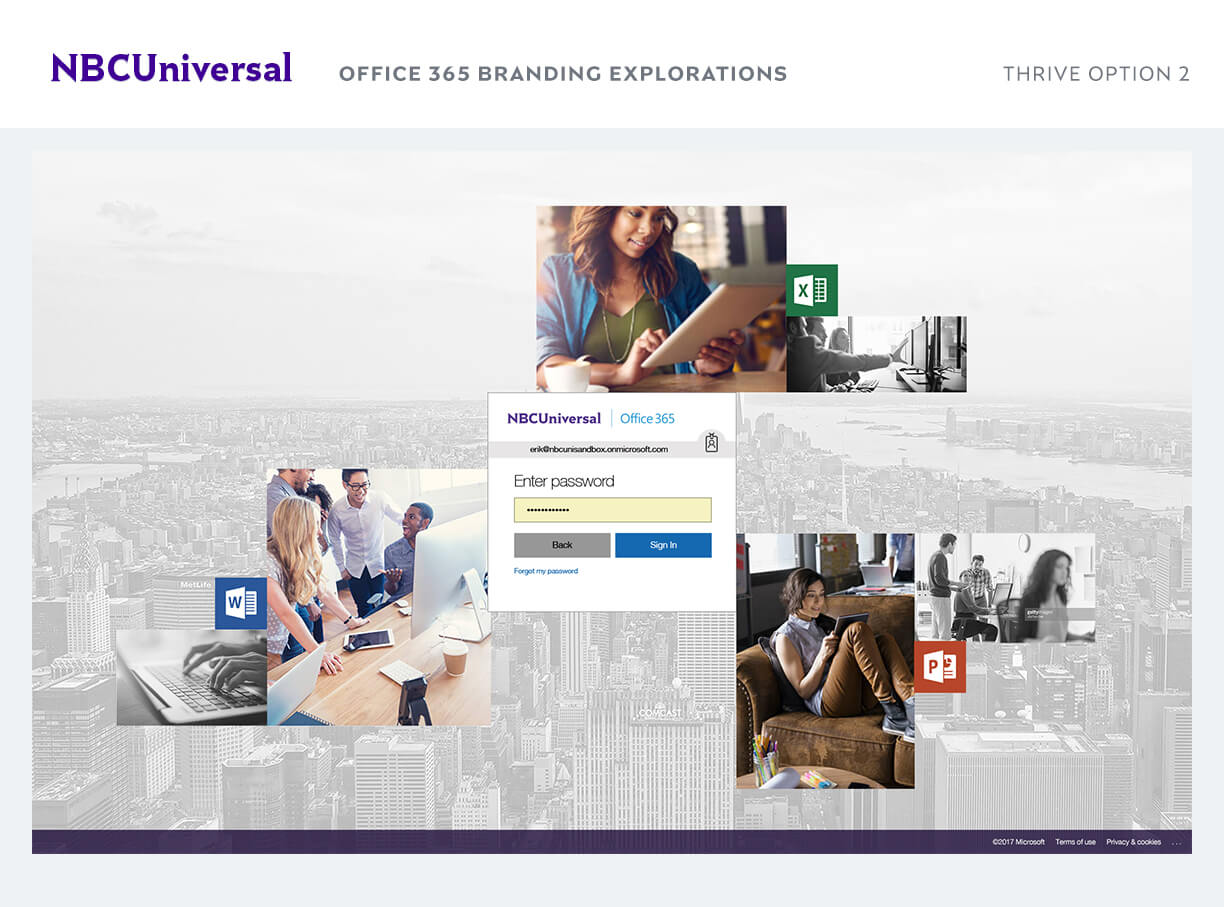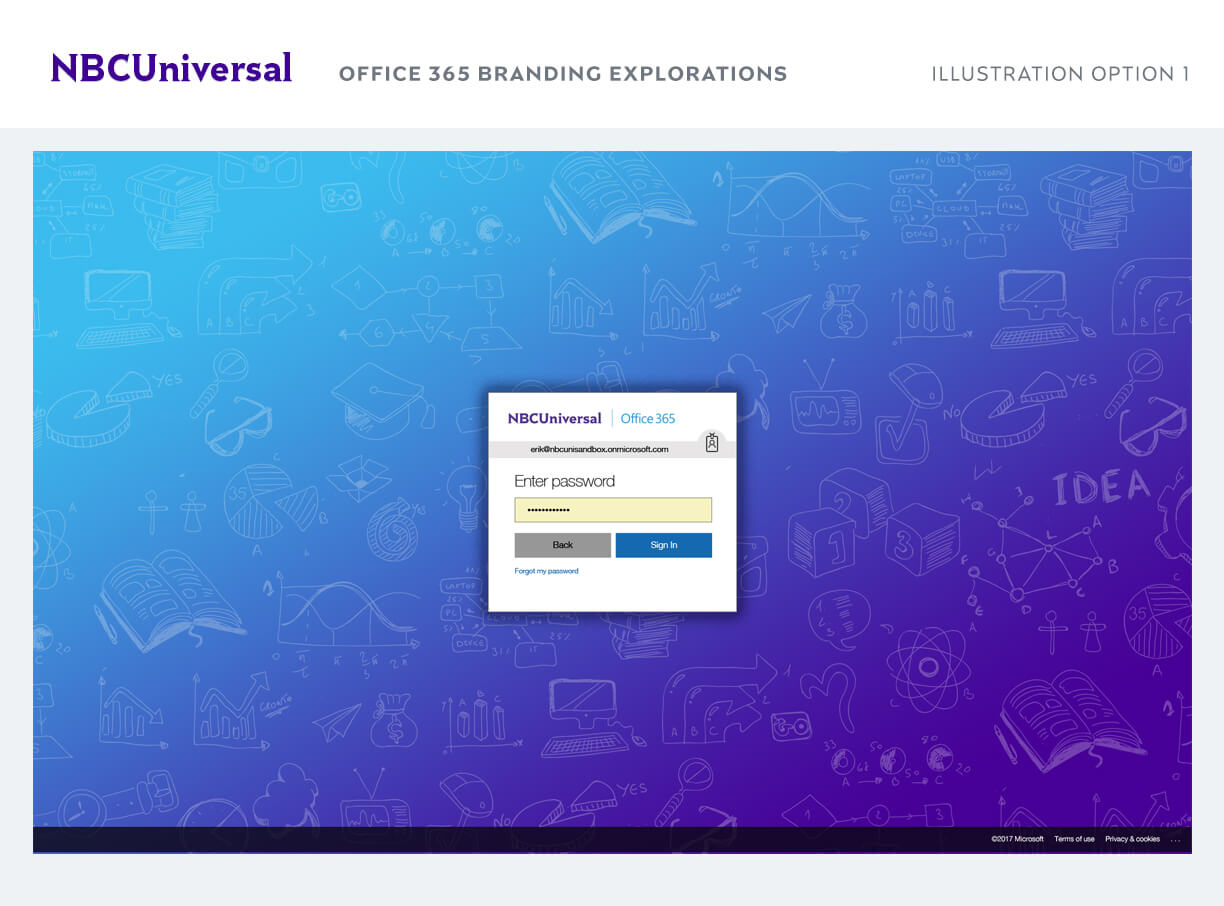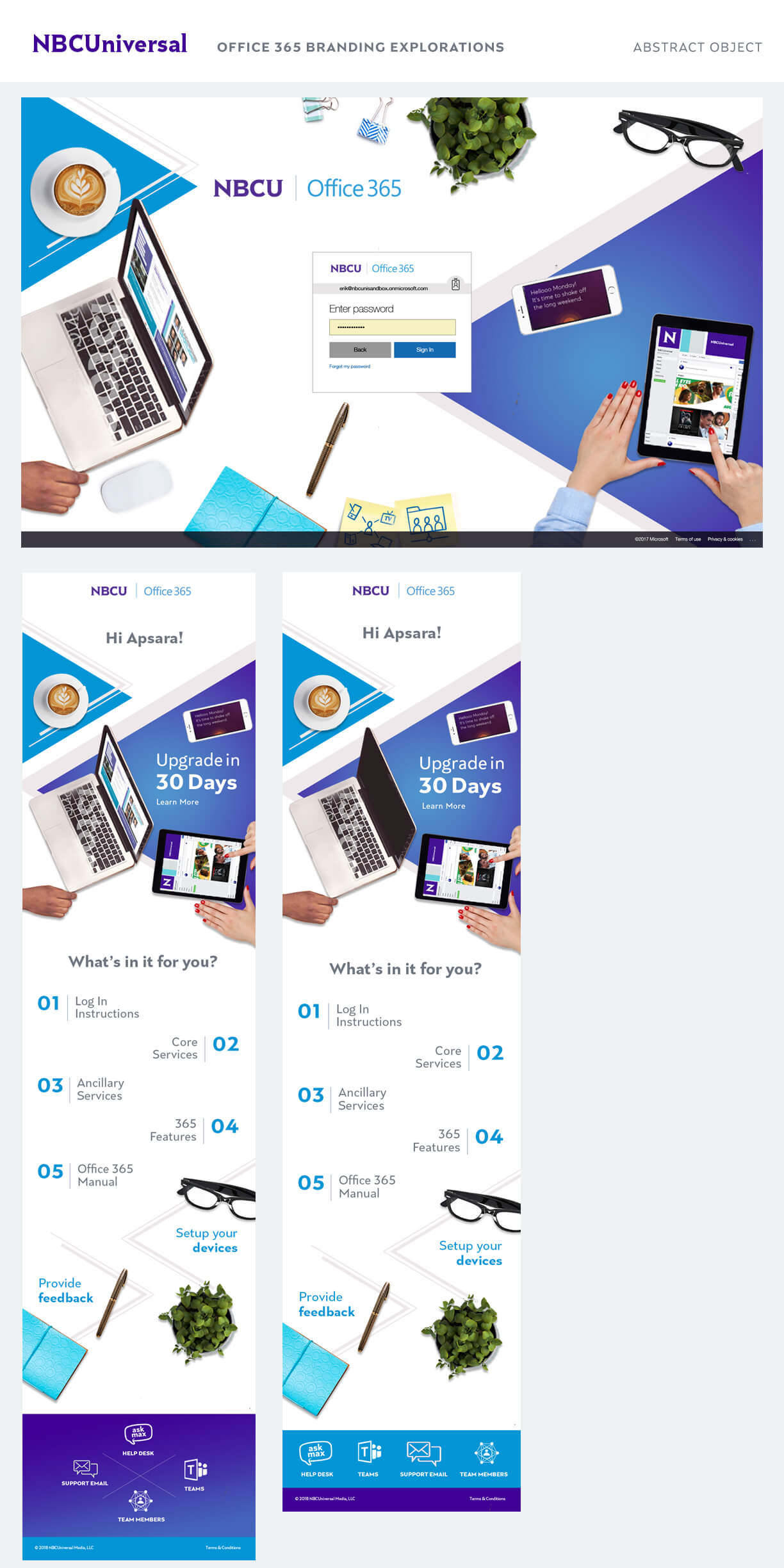 NBCUniCareers Explorations
Functionality
Created in 2012, the NBCUniversal Careers website serves as a hub for jobseekers to explore employment opportunities with the company.
The Talent Acquisition team is looking to engage and excite visitors with the NBCU brand so they can recruit top-talent especially professionals in the Digital sphere.
End-to-end consistent branding on the website, documents and email correspondence.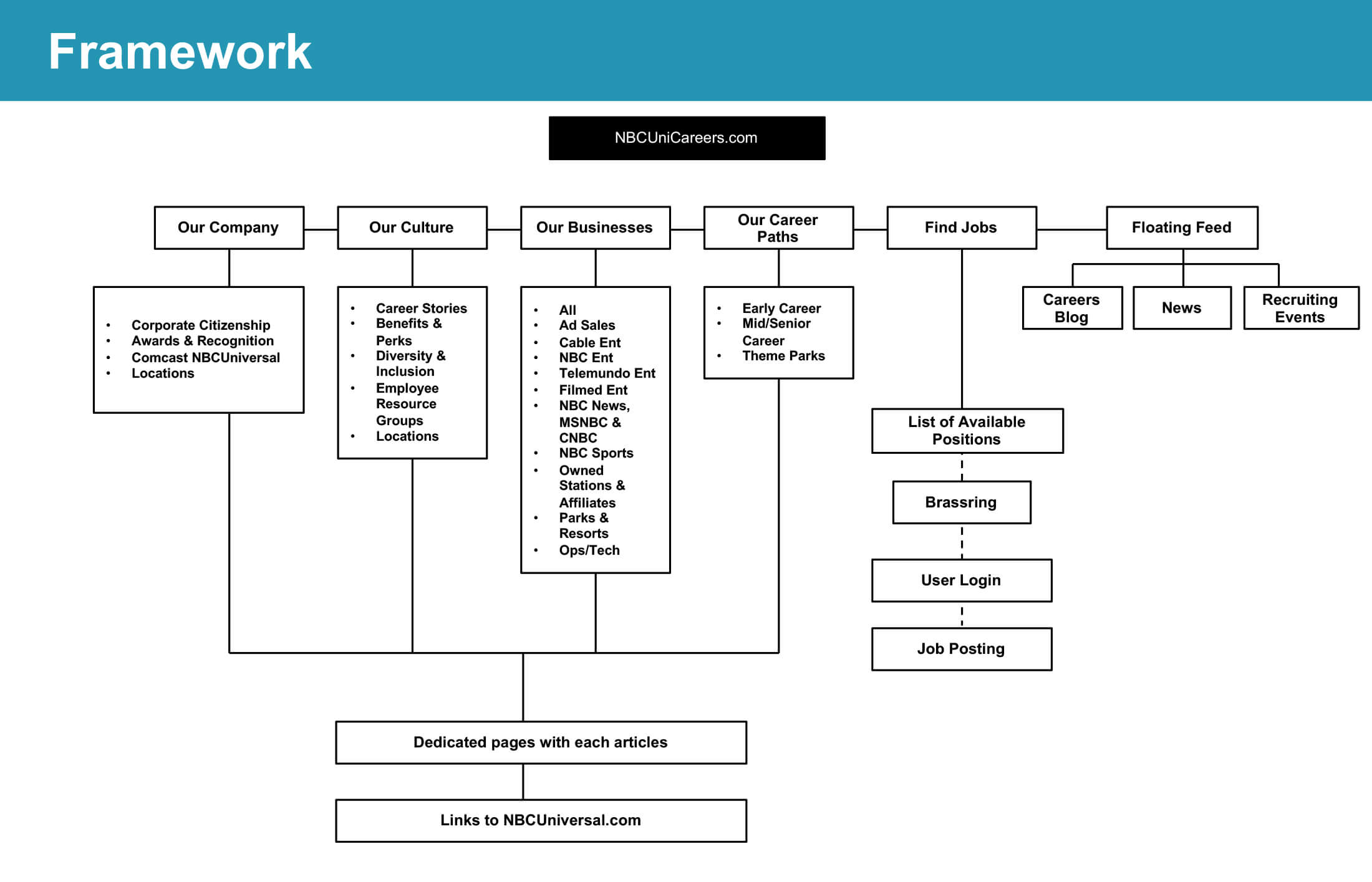 Travel & Expense Portal
The Travel & Expense site had the content to support landing pages and PDFs similar to NBCUNow. However, the content on the homepage needed to be organized in order to setup the site's infrastructure.
Streamlined
User Friendly/Intuitive
Low and Easy Maintenance For Small Staff and Resources
Beautiful
NBCU Now Inspired
Findings
Site Traffic/User Behavior
Top 5 Regions: US, UK, DE, Australia and France
Visitors spend an average of 68 seconds on the homepage for the top 5 regions
FAQs and Contact Information are sections that generate traffic with users spending an average of 2.5 minutes on each section
Content
Majority of the content were links to PDF files
Redundant content shown on the homepage and landing pages (i.e. 2-paragraph blurb on homepage was found when you click for more)